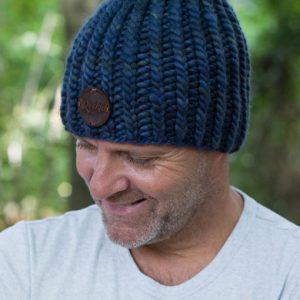 Madrista Team.
Meet Iwan, my former boss at the gym who now runs his own B&B Saga & More with his lovely wife Ingela from Sweden.
He is a former Navy Man & Triathlete but now in these days he likes to take it slow with a good glass of wine  enjoying life.
I knitted this Rockid men hat with one of my favorite merino yarns from an Uruguayan farm that allows their free – range sheep through the hills and are herded by actual old – style shepherds.
The controversial practice of mulesing does not exist in Uruguay.
I always ensure that my yarns come from the best suppliers available all around the world.
This hat is unbelievably squishy. This is the hat to turn to when you want the ultimate in warmth .It is also self-cleaning because the fibers contain lanolin. Lanolin is a natural substance and naturally has antibacterial properties. This voluminous fiber structure ensures permanent ventilation.
I made this Rockid men hat with passion & care and this is one of a kind.